By Eric chen |
09
March 2023 |
0
Comments
Choosing the Right Genie Scissor Lift: A Guide to the GS-1930
If you are in need of a reliable and safe scissor lift for your construction, maintenance, or warehousing needs, the Genie GS-1930 might just be the solution you are looking for. In this guide, we will walk you through the features and benefits of this particular scissor lift, and help you determine if it is the right fit for your needs.
First and foremost, the GS-1930 is a compact, lightweight, and maneuverable scissor lift with a maximum working height of 7.79m (25ft 6in) and a platform capacity of up to 227kg (500lb). This makes it an ideal option for indoor applications where space is limited and weight restrictions are in place. It can also be easily transported in the back of a pickup truck or on a trailer, which makes it a great option for contractors who need to move their equipment frequently.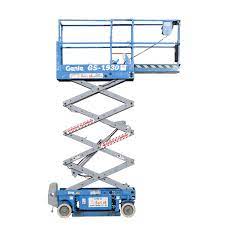 One of the key benefits of the GS-1930 is its ease of use. It features a simple control panel that allows the operator to easily raise and lower the platform, as well as move it in different directions. It also has a low noise level and zero emissions, which makes it a safe and environmentally friendly option.
Another feature of the GS-1930 that sets it apart from other scissor lifts is its durability. It is designed with a sturdy steel frame and a slide-out battery tray that allows for easy maintenance and replacement of the batteries. It also has solid non-marking tires that are suitable for use on a variety of surfaces.
In terms of safety features, the GS-1930 has several that make it a reliable and secure option for any job. It features a descent alarm that sounds an audible alert if the platform is lowering too quickly, as well as an emergency stop button that can be used to quickly halt the machine if necessary. It also has an automatic pothole protection system that prevents the lift from operating if it detects an uneven surface.
Overall, the Genie GS-1930 is a versatile and reliable scissor lift that can be used for a variety of indoor applications. Its compact size, ease of use, durability, and safety features make it a great option for contractors and facility managers who need a reliable and efficient lifting solution.
Leave a Reply
Your email address will not be published.Required fields are marked. *