By Yvonne Lu |
24
March 2022 |
0
Comments
What is the difference between an articulating boom and a telescopic boom?
Aerial lift equipment is used in a wide range of industries on jobsites and in facilities around the world. Boom lifts, in particular, are an ideal choice for applications where you need to lift workers, tools and materials extended heights to get the job done.
Two different types of boom lifts dominate the market today: articulating and telescopic. Choosing the right boom lift for your project will make all the difference in how efficiently, safely and profitably you complete the task at hand. Knowing the difference between these two booms will help you make the right selection.

---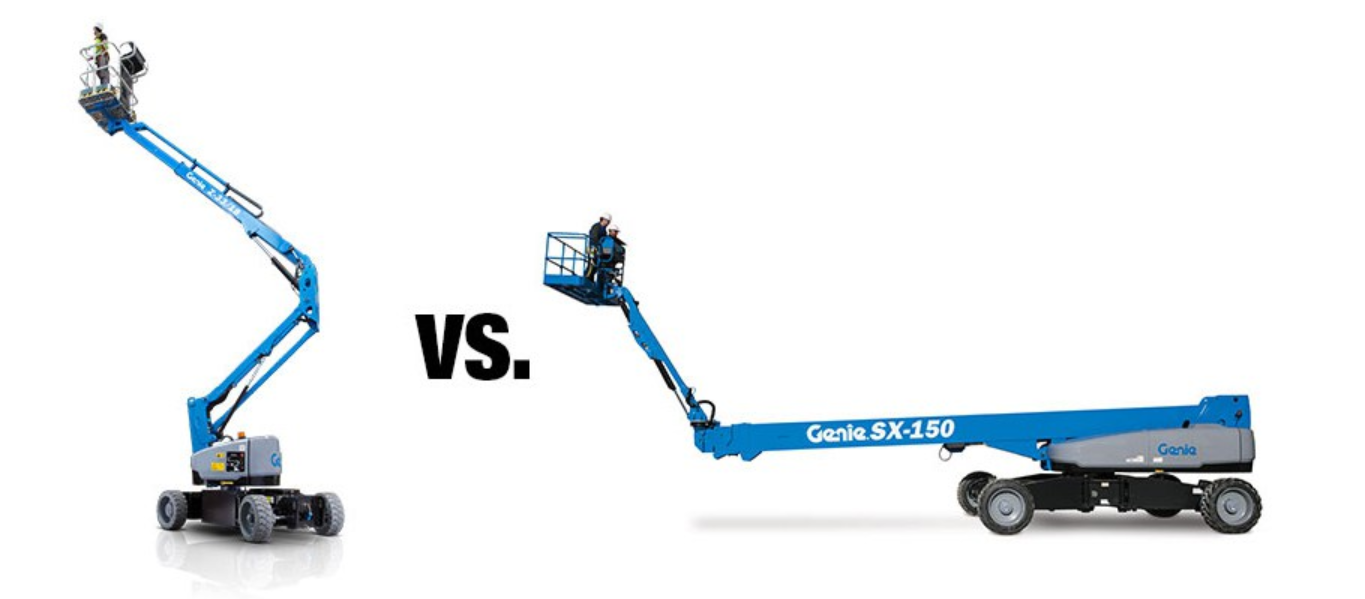 ---
Articulating Booms
Articulating booms are aerial work platforms with multiple boom sections that hinge — or "articulate" — allowing the operator to gain access to work areas over obstacles and barriers. Also referred to as "knuckle booms" or "up-and-over booms," these versatile products are perfect for tight access and hard-to-reach areas.
Why choose an articulating boom?
You need access in confined work areas. Narrow models are ideal for the tightest, most congested spaces. Genie® 62-ft articulating Z™-boom lifts and under, for example, have zero tailswing, which means the far end of the turntable does not extend beyond the edge of the drive chassis when they are rotated.
You need to reach over obstacles. Articulating booms have less horizontal outreach than telescopic booms, but they provide greater versatility to reach up, over and out to access work areas.
You're working indoors. Industrial models use DC electric power or clean-burning (LPG) fuel and have non-marking tires for indoor use.
You need to travel over rough terrain. Rough-terrain models are designed for rugged, unimproved construction sites. Features include petrol/LPG or die*el engines, lug-tread tires, an active oscillating axle (for enhanced traction) and four-wheel drive.
You need extra reach from the platform. Most Genie® Z™-boom lifts offer a boom extension, called a "jib," between the end of the primary boom and the platform. Jib booms add another articulation point for the platform to move up and down, and on some models, side-to-side.

---
Telescopic Booms
Telescopic booms are aerial work platforms with boom sections that extend telescopically. They are also commonly known as "stick" booms because of their straight appearance. Telescopic booms offer greater horizontal outreach than any other type of aerial platform — ideal for areas with limited access in construction, industrial, entertainment, road building, bridge work, painting and inspection applications.
Why choose a telescopic boom?
You need the maximum combination of height and outreach. Genie® telescopic S™-booms, for example, are ideal for access to work from a distance — where the terrain or obstacles prevent close access. Outreach capability is often as important as working height on these models.
You have a rugged, unimproved worksite. Telescopic booms with four-wheel drive and active oscillating axles are designed for maximum terrainability and traction.
You want to maximize your productivity. These booms are designed to get up into working position quickly.

---
Leave a Reply
Your email address will not be published.Required fields are marked. *