By Eric chen |
06
June 2022 |
0
Comments
Boom lift trends
The industry questioned if there was a place for a boom that big, in that it would be difficult to transport and end up competing for jobs that truck mounts were designed for. At ConExpo, Don Ahern, owner of Snorkel, told AI, that following a great deal of research, he had been convinced there was a need for a much larger machine. Hence the 210ft (64m) platform height Snorkel 2100SJ was born. (You can see the full video interview with Don Ahern at www.h-equips.com, in which he lays out all its specifications and the reasons behind its development).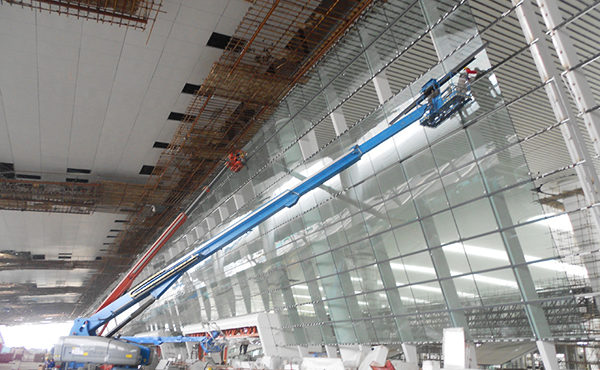 Dubbed a 'mega boom,' the lift provides a horizontal outreach up to 100ft (30.4m), and has an unrestricted platform capacity of 660 pounds (300kg). With a maximum working height of 216ft, (65.8m), the 2100SJ reaches an equivalent of 22 building storeys.
The 2100SJ has a working envelope area of 5.48 million ft3 (155,176m3), thanks to a 30ft (9.1m) jib boom with a working arc of -55° to +73°, and 150° platform rotation. Weighing 80,000 pounds (36,287kg) and rated for outdoor use up to 28mph (12.5m/s), the 2100SJ comes with an anemometer as standard to measure wind speeds.
On the unit's chassis, the patent pending transformation mechanism features a unique design that enables the axles to be extended while the lift is static. It also features five steering modes, including front axle; rear axle; crab steer; complementary 4-wheel steer; and new lateral steer, which enables it to drive side-to-side along a building with the wheels in a 90° position. Powered by a Deutz turbo-charged 2.9L 74hp diese engine as standard, an optional 100hp engine upgrade will be available and is suitable for all global transport width requirements. The 2100SJ will go into full production in early 2021.
The manufacturer also showed two new innovations to its existing 400S/460SJ and 600S/660SJ model at the ConExpo show in Las Vegas, US. The new all terrain package for the 600S/660SJ telescopic boom lifts features four independent rubber tracks for use on difficult terrain. On the 400S/460SJ telescopic boom lift models, the company was showing a new Kubota engine option. Currently, the 400S and 460SJ are offered with a Deutz 2.9L 49hp (36.5kW) Tier 4 Final diese engine as standard, however, the new option enables customers to select a simpler engine without compromising performance.
Other manufacturers have been launching big booms of late to compete with the previously mentioned JLG and Genie booms. At Bauma China, in 2018, XCMG launched the 56.6m (186m) platform height GTBZ58S telescopic boom. The model has a 450kg restricted basket capacity, and 250kg unrestricted. Maximum outreach is 25.1m, while the weight of the machine is 27,200kg.

More recently, at APEX Asia last year, Sinoboom launched the world's largest articulating boom. At 46.3m platform height, the GTZZ46J just tops JLG's 45.72m platform height 1500AJP. A team of engineers, led by company founder and CEO Steven Liu, developed the GTZZ46J in response to demand from the petrochemical industry, which is the sector that has placed orders for the first units.
It has a horizontal reach of 25.5m and maximum load of 455kg. These being key factors for customers engaged in the installation and maintenance of large steel structures, venues and petrochemical plants, where both span height and horizontal extension are of particular importance, says the company. It features patented X-shaped swing legs to enable a narrow transportation width, easy deployment and excellent stability.
ANSI advances
The new US ANSI A92 standards will be implemented soon, although, as this article goes to press, they have been delayed until June under an appeal, much to the frustration of many companies in the industry. Although, COVID-19 could put the spoiler on that date too.
Manufacturers have been updating their products to meet those standards by offering extra capacities on their products. This means operators can match the same outreaches on existing their boom products without the new load limiter required by ANSI kicking in and stopping the machine. The new ANSI standards now conform to global ISO standards, which in turn are also adopted by the European EN280 regulations for MEWPS, along with other global standards in Australia and China.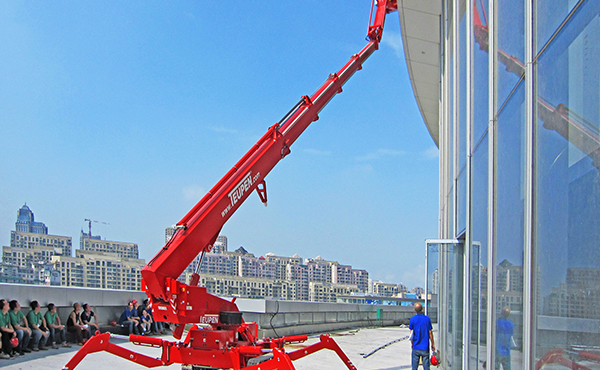 Genie kicked the trend off with its Xtra Capacity (XC) units, which have been well documented. JLG's hi-capacity booms were first announced last year but were on show for the first time this year, and Skyjack's new extra capacity booms joined them this year too
JLG's new 600 series hi-capacity HC3 boom models were presented at ConExpo. The series so far consists of the 600AJ and 600S, which each deliver a 60ft platform height, and the 660SJ, with a 66ft platform height. Each model offers a 660 unrestricted capacity, plus 750 and 1,000 pound restricted capacities. All the models are rated for three occupants in all three zones. They retain the same footprint as the standard JLG 600 series models.
"With the ANSI 92.20 standards set to publish in the near future, we anticipate higher capacity booms will become increasingly popular," says Bill Dovey, senior product manager, boom lifts, JLG. "The load sensing requirements for all boom lifts will drive the industry towards higher capacity models in an effort to maximise productivity."

Skyjack's extra-capacity/dual zone booms will also be a major part of its future offering. On show at ConExpo was the SJ66T+, with a 660 pound and 1000 pound (300kg/ 454kg) dual capacity. Skyjack's solution to help the North American industry's move into the load sensing requirements of ANSI will replace the whole boom line in the continent. The new configurations also means Skyjack is the only manufacturer to offer a 60ft extra capacity articulated boom in the US market, it said. The SJ66T+ as a Deutz TD2.9L4 diese or Kubota WG2503 dual fuel engine option. The company added that the extra capacity offering did not add a great deal of weight or cost but it did add a lot of value.
In Europe, where load sensing requirements has been a longstanding requirement of the EN280, Skyjack's extra capacity will only be installed on telescopic booms.

Genie third boom range
Genie launched the second boom lift in its new J range at ConExpo. The J range is lighter and more simple to use than the Xtra Capacity (XC) range for operators who want the height rather than the extra capacity and further outreach. It effectively means Genie now offers three boom ranges: the XC, J and its FE hybri range.
The S-80 J follows on from the S-60 J, introduced earlier this year. It has an unrestricted platform capacity of 660 pounds (300kg) for two occupants, plus tools, and a 6ft (1.8m) jib. With a platform height of 80ft (24.4m) and horizontal reach of 55ft (16.8m), the new boom is designed to provide maximum working capabilities at the top of the envelope.
For example, the J lifts are ideal for general construction, maintenance, inspections and painting. The XCs are suited to performing heavy lifting work, like commercial and industrial construction, structural, electrical and plumbing and speciality applications.
The model is also lightweight enough at 23,000 pounds (10,433kg) to be equipped with Genie's 4-point TraX patented track and axle system. The TraX is designed to offer extreme terrainability and lower contact pressure for reduced damage when operating in sensitive ground surfaces, as well as on harder, uneven gravel or rock surfaces. It is equipped with a 49 hp (37 kw) Kubota D1803 turbo diese engine.

Self-levelling from JLG

JLG Industries introduced the 670SJ self leveling boom lift at ConExpo. JLG engineers realised that the industry as a whole had designed current lifts for the near ideal conditions of firm, flat surfaces with a grade of 5 degrees or less.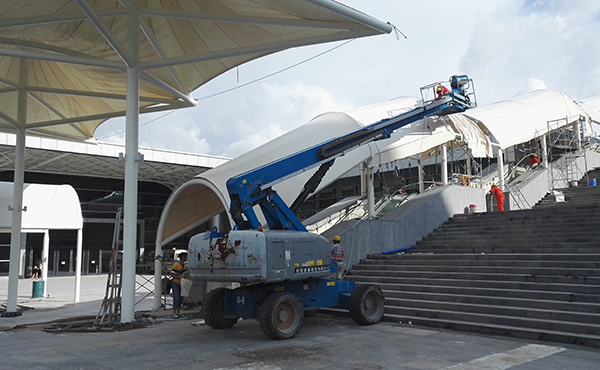 "We believe the 670SJ self-leveling boom is a step change for the industry; a technology that will transform the way people work at height, while offering significant productivity and safety benefis," said Milan Klimes, senior chief engineer for JLG." The 670SJ will be available for shipment to North America-based customers in the third quarter of 2020.

A scale model prototype was built in time for Bauma 2016, where customers provided feedback on the machine's overall design. Engineers set the goal of creating a full-size concept machine for ConExpo 2017. The final result, presented at ConExpo 2020 was the 670SJ.

The 67ft platform height boom lift boasts a 550 pound unrestricted and 750 pound restricted capacity. It offers 45% gradeability, a 57 ft, 1 inch horizontal reach and elevates to a full height or back to ground level from full height in 101 seconds.

It automatically levels on grades up to 10° when in self-leveling mode. For versatility there are two additional modes, standard mode for driving with the boom down at faster speeds and shipping mode which allows the suspension to be lowered during transport.

This new technology will be phased into production across a wide range of models and will evolve to meet international compliance standards in the future.

Haulotte and Manitou market expansion

The US market is an important one for all manufacturers. Haulotte is seeking to expand its market share there and has launched its first product manufactured in North America, at its Ohio plant. The 46ft platform height HT46 RTJ Pro will be followed by other products in the future as the market requires it, said the company. Some of the features of the product include the familiar dual load capacity of 550 pounds or 770 pounds restricted. The product has four wheel drive, quick and simultaneous movements and four wheel steer for agile manoeuvrability. It also beneits Haulotte's range of Activ' features, including the Activ'Screen diagnostic display for onboard fault and service alerts and easy access to components.

Fellow France-based manufacturer Manitou has also been very active in increasing its market share in North America. Its range of MEWPs dedicated to the market was expanded too at the show, bringing the total to four platforms ranging from 60ft to 85ft. Two of these models, the TJ 85 boom and the all new VJR 26 electric vertical mast were on display at ConExpo.

Manufactured in Candé, France, the TJ 85 has a platform height of 85 ft (26 m) for a lifting capacity of 770 pounds (350 kg), or three people with equipment. It also has a remote control, which provides the ability to fold the jib under the telescopic arm to reduce the length of the machine when loading onto a truck. The working height of 85ft (28m) and horizontal outreach of over 70ft (21m) meets the requirements of port, industrial maintenance and construction work

The TJ line offers unrestricted or restricted platform capacities. The tallest of the group, the TJ 85, has an 84ft, 6 inch platform capacity with 770 pounds of restricted capacity and 530 pounds of unrestricted capacity. It achieves 70ft, 4 inches of horizontal outreach and also features a 12ft, 5 inch telescopic jib.
MEC compact

On the subject of North America, MEC was showing a new boom. It has designed the machine to be compact and flexible. The 12.2m (40ft) working height 34-J is designed to be lightweight at 3,630kg (8,000 pounds) and compact, meaning three units can fit on a standard-sized truck. The idea is that the machine offers a less expensive alternative to a standard 40ft boom, or even a standard 34ft boom, said the manufacturer. Ultimately, this provides a better ROI (return on investment).

Other features include a 1.5m (5 ft) jib, with 135 degrees range of motion as standard. Also, as standard, is a 72 inch platform including three-sided entry with swing gate, sitting above a 4WD drive and oscillating front axle, with rough terrain tyres. The prototype unit on the stand at ConExpo was offering an 8m outreach but MEC said it was hoping that would be increased on the production model.

Another major shift in the industry is the move to electric-powered rough terrain equipment. Haulotte's Pulseo range was launched in 2017, JLG's EC range followed last year and Manitou also launched an electric boom last Bauma Germany. Genie is choosing the hybri route with its FE range as it sees them as more useful in the immediate term, which its says has been proven by 3.5 years working in the industry.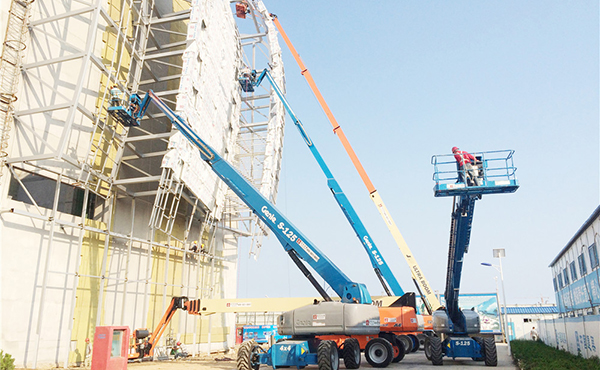 ELS launch

Turkey-based ELS Lift's latest boom is the 15m working height electric AE15, suitable for indoor and outdoor use. The new machine offers 8.65m outreach and has a chassis width of 1.52m. It also offers the operator a 355° swing, multi-axis joystick and a capacity up to 230kg in basket.

ae15

ELS Lift

The AC drive system eliminates the need for maintenance, with other standard features including CAN communication system, battery charger with auto-off system, non-marking tyres and emergency lowering system.

It is designed for challenging working areas that require versatility, such as airports, shopping malls, ports, shipyards and facade cleaning. The model has also been designed with easy transportation in mind, thanks to its pulling hooks and lifting points.

ELS Lift sales marketing director İrfan İşmak said, "It is now the responsibility of citizns all over the world to strive against air pollution and global warming issues. Commercial companies operating on a global scale are also forced to offer environmentally friendly alternatives."

To this end the company is preparing to launch a hybri version of its articulated boom lift line, to offer zero emissions, in the last quarter of 2020.

Niftylift electric

Niftylift was the founder of the hybri boom range and in recent years has launched its electric E range which offers significantly increased standard duty cycle performance. Launched in 2019, the latest is the HR17NE, an all-electric-drive version of the HR17N. It offers a 17m working height, with a market-leading outreach of 9.7m, all from a 1.5m wide base that weighs 7,780kg.

Dingli launch

This year, China-based manufacturer Dingli launched its modular series of electric articulating boom lifts worldwide. Dingli revealed one of the models, the 28m EAB28ERT, recently at Zhejiang Deqing Mogan Mountain Airport. The company's new electric line comprises seven models in total, matching the company's line of seven diesa-powered boom lift models. The zero-emission electric platforms feature a 80V lithium battery and both quick and slow recharge speeds.

While the smallest platform in the electric series has a working height of 24.3m, the largest in the platform range has a maximum working height of 30.3m and load capacity of 454kg.
Leave a Reply
Your email address will not be published.Required fields are marked. *