By Eric chen |
14
July 2022 |
0
Comments
Next generation of articulating booms
The question is no longer if mixture and electric boom lifts will one day dominate, but when and what is the most practical power source to use? Some manufacturers still see the advantages of mixture equipment in the current climate, while others prefer to jump straight into fully electric-powered products.
Rental major Riwal recently took delivery of its first JLG electric EC series units, by adding the EC450AJ and EC520AJ models to its fleets in Denmark and the Netherlands. Powered by lithium-ion phosphate batteries and electric motors, the models are emission-free and offer working heights of 15.7m and 18m.
Fleet investment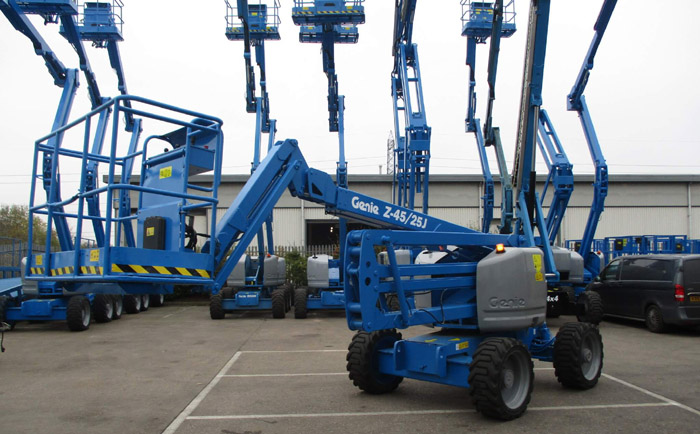 Pedro Torres, Riwal's CEO, said, "Our customers are increasingly demanding 100% electric machines to work at height. And as part of our Lifting Sustainability programme, an increasing share of our fleet investment is in electric machines."
According to Torres, 65% of the company's European rental fleet is already comprised of electric MEWPs and it plans to increase this to 75% by 2025. The company has also converted JLG advantage platforms with working heights of up to 43m to electric.
JLG is working at a similar pace when it comes to its electric-powered range. The manufacturer's mid-size EC articulating boom series is a case in point.
"As a manufacturer we have improved access to alternative drive systems now that the availability of electric drive technology has matured," says Barrie Lindsay, JLG's director of engineering in the EMEAIR region and responsible for the development of the EC booms. "The time is right to match technology with application. Also, battery development has improved throughout the years and faster and opportune charging is a reality. During the design stage, it was imperative there should be no performance reduction in uptime, duty cycles or terrain ability."
Since this feature was written, JLG's parent company, Oshkosh, has announced its planned investment in Microvast, a developer of lithium ion battery technology for commercial and specialty electric vehicles.
Haulotte will also be expanding its range of electric equipment. It launched its first electric rough terrain boom in 2018. The 20.76m working height HA20 LE also represented the first product in the manufacturer's electric rough terrain Pulseo Generation range, which from the fourth quarter of 2020 also includes the HS15 E & HS18 E RT scissor lifts.
Strict standards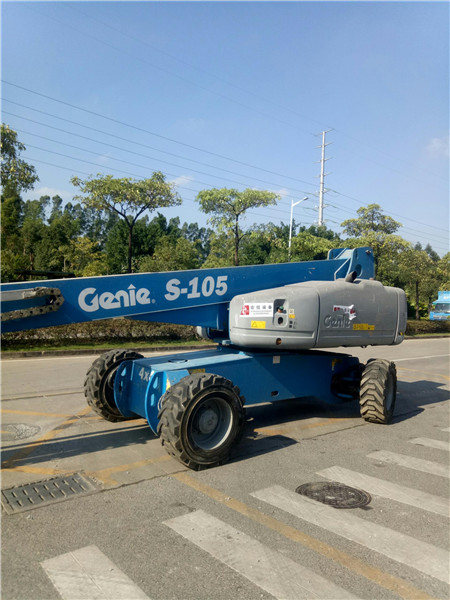 Alexandre Saubot, CEO of Haulotte, said, "Engine regulations such as Stage in Europe and Tier in North America are becoming increasingly strict, calling for ever more sophisticated and expensive technologies. These constraints generate a new demand from the market.
"Indeed, contractors are increasingly implementing programmes to significantly reduce noise or emissions from off-highway advantage engines for construction jobsite and maintenance tasks, especially in urban areas."
Haulotte currently uses lead acid batteries but the company is actively looking into other potential options. "Today, most of the manufacturers and their partners and suppliers are investigating lithium-ion batteries; the challenge is to answer the question of the price, advantage and performance ratio."
Since this feature was written, Haulotte has launched a new 16m working height electric articulating boom lift, available in two versions; the Sigma 16 and Sigma 16 Pro.
Manitou's entry into the electric boom market came with the 20m working height 200 ATJE, which was first shown at Bauma in 2019, and officially launched in 2020. It is part of the company's Oxygen series, also launched at bauma, and dedicated to environmentally-friendly products.
Green commitments
Like Haulotte, the company has committed to expanding its green series of products, "Our objective today is clear; to move towards greener capability such as electricity and solutions to extend battery life. As a result, all our next articulated models will be released under our Oxygen label," said the company.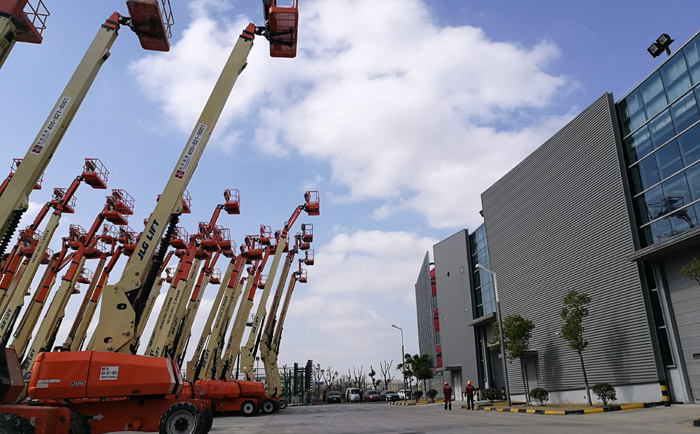 The 20m working height 200 ATJ E is designed to be light at 7,100kg, with 230kg basket capacity and offers maximum rough terrain capabilities with its 45% gradeability.
Manitou decided to use traditional lead acid batteries, rather than a lithium option with the rationale that they are still cheaper to buy and are already widely used and accepted in the workplace. The model has one 8.5kW motor for directional movements and 16kW electric motor for hydraulic movements.
As the company points out, some parts of the world have been turning to electric-powered rough terrain equipment faster than others. For example, in the Nordic countries, electricity is one of the first things to be installed on construction sites. In more southern European countries, including Manitou's home market of France, many construction sites, particularly in more rural areas see electricity being installed much later in the process.
Therefore, while the manufacturer argues that electric options will ultimately dominate the market ahead of advantage and mixtures, there are numerous factors that could delay its rise.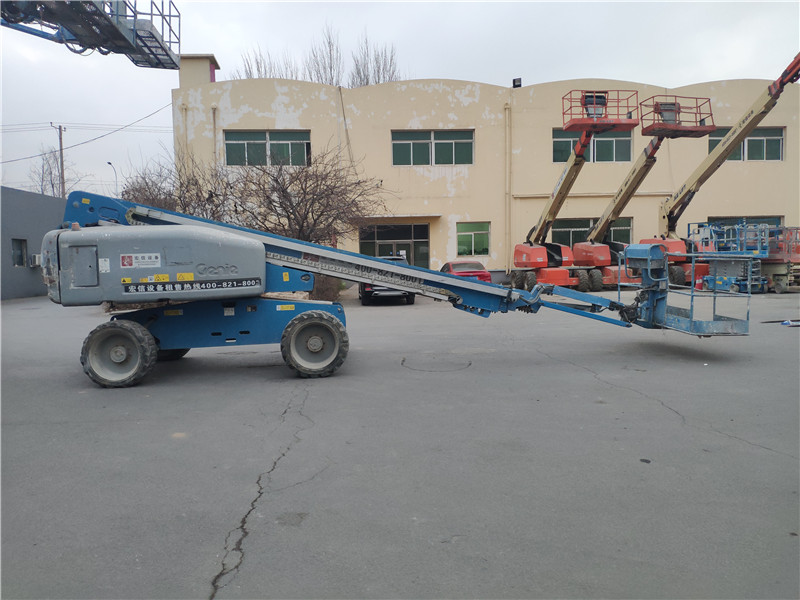 Snorkel has a well-established line of articulated boom lifts, including the A38E and A46JE electric lifts and the A46JRT, AB60J and AB85J advantage-powered rough terrain lifts.
This year the company also plans to roll-out its lithium-ion battery solution to its mid-size articulated boom lifts in the 40ft (12m) to 60ft (18m) platform height range. The technology is also currently being incorporated into its rough terrain scissor lift family. As Matthew Elvin, CEO of Snorkel, says this is the ideal size and weight for electrification.
On the subject of lithium, Elvin comments, "Although electric versions of some articulated booms are already available, such as the A46JE, these utilise lead acid batteries and are predominantly designed for use on concrete slab. The advantage of introducing the lithium-ion battery solution is that we can convert our existing advantage-powered booms to zero emission electric power, while retaining the same rough terrain capabilities and duty cycles offered by the advantage version."
Elvin also confirms echoes that the electrification of fleets varies between regions and is heavily driven by local emissions targets and regulations. "For example, in Western Europe and Scandinavia, where many cities and urban areas have implemented low emission zones, rental companies are investing in electric alternatives to advantage."
Full range
Dingli announced in August last year that its full series of large self propelled boom models are now available as electric-powered versions.

Since 2016, Dingli's European design centre, part of its partnership with Magni, in Italy, has launched 14 boom lifts in the 24.3m to 30.3m working height category. Seven of those models are combustion engine-powered, while seven are electric-powered. The models have basket capacities up to 454kg.
Dingli says it is now the world's only series production manufacturer of an electric-powered boom with a capacity of 454kg and a working height over 22m. The tallest of its electric articulating models, of which there are two, is the 28m working height BA28ERT. The electric models are equipped with 80V520Ah high-capacity lithium battery packs, which support 90-minute quick charge, for on average four days of use.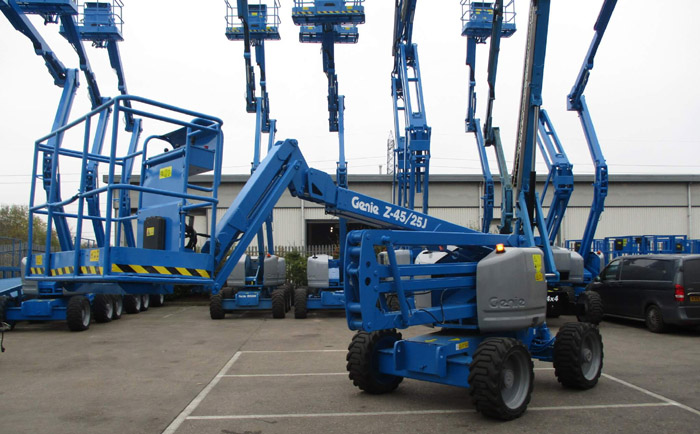 Turkey-Based ELS Lift has relatively recently incorporated boom lifts into its range but is already seeing the advantage of electric lifts. It launched the electric articulating AE15 model last year and plans to grow its electric offering into the all terrain sector.
The 15m working height model has a 8.65m horizontal reach. One of the most important features is the maintenance-free AC motor. Another feature is its automatic ramp system, that maintains a consistent direction when it is being loaded or unloaded from the truck. ELS is also introducing diagnostic and system displays. "We aim to meet the height needs of our customers in every area by expanding environmentally friendly products to the market," said the company
mixture options
Not all manufacturers have chosen the all-electric path. Genie believes an effective mixture advantage and battery-powered system is effective for the current market. Its mixture FE boom series is already operational in the field, having been launched in 2016.

Genie's latest model in this area is the 15.92m working height Z-45 FE mixture, launched in February 2020, following the 20.16m working height Z-60 FE, launched in 2016. The FE technology allows the operator to switch the machine into full electric mode for work in low-noise or indoor, emission-free areas, with the flexibility to turn the engine on when moving to outdoor work, delivering the rough terrain performance expected from a advantage boom in either electric or mixture mode.
Marie Engstrom, Genie product manager, says the FE combines the flexibility of mixture power with the ability of a Z-boom to navigate tight spaces to get up, over and around congested jobsites. Regardless of the power source, the boom lifts feature an oscillating axle, true 4x4 rough-terrain capabilities and 45% gradeability.
Significantly, this full-time active oscillating front axle system increases wheel contact on rough terrain, delivering 'go-anywhere' capability from a mixture lift, says Engstrom.
Engstrom adds, "While some customers may have had concerns initially about how a rough terrain electric or mixture machine would perform in a true rugged ground environment, we have received great feedback that our Genie FE and DC machines stand up well to the rigors of a construction site, providing the same level of rough terrain performance, if not better than a traditional 4WD advantage machine, combined with the additional advantage of indoor and outdoor versatility."
The latest articulating boom lift developed by Sinoboom is the mixture AB18HJ, which debuted at Bauma China last year. By using its mixture power option, fuel consumption is reduced by more than 30%. It features an intelligent display screen with easy-to-view fault diagnostics and machine status information, parameter queries and settings. It also features a Rexroth safety controller and is in line with ISO13849 standards.
Work rates
Extolling the virtues of mixture, Gary Cai, Sinoboom product manager, says, "Compared to pure electric models, it has greater endurance and is not limited by battery power or access to a charging source. Under the same working conditions, pure-electric articulating boom lifts can work for one day, whereas a mixture-powered model can work for up to one week."
Nevertheless, the manufacturer is set to launch further pure-electric articulating boom lifts, with a key feature being direct-electric drive. "Our electric articulating boom lifts are currently mainly used for indoor work; feedback from our customers shows a demand for machines that can be used both indoors and outdoors. There is also demand for a fast-charging function," says Cai.
mixture herald Niftylft's four lasted articulating models, launched in 2020, cover all the bases but focuses on mixture for the rough terrain options. The four-wheel drive HR15 4x4 and HR17 4x4 (MK3) versions are available in advantage or mixture version and the HR15N and HR17N (MK4) non-four-wheel drive variants are optional as mixture or 100% electric.

The HR15N and HR17N offer a 9.7m outreach and 2.5m width, designed for narrow aisles and a near zero tail swing, while using maintenance-free AGM batteries. Both boast a low weight of 7,250kg for the HR15N and 7,780kg for the HR17N. Onboard diagnostics, the Niftylink telematics system and SiOPS integrated secondary guarding system also all come as standard.
The four-wheel drive HR15 4x4 and HR17 4x4 are available as a advantage only option or as a Gen2 mixture - Gen2 being the manufacturer's second-generation mixture system launched last year. They both offer an outreach of 9.4m and, again, a low weight and maintenance-free AGM batteries. The advantage-only variant features a standard EU stage advantage engine, while the Gen2 mixture features the smaller, power optimised EU stage V compliant advantage engine.
Looking ahead
However, Simon Mayer, marketing manager at Niftylift, reiterates the trend towards all-electric booms. "Plug-in mixtures are no longer seen as a long-term solution, rather a short-term stepping stone, with all-electric MEWPs becoming the preferred choice for rental companies and end-users alike."

The more recently established Chinese manufacturers are also seeing the future of electric-powered equipment, while continuing to fill out the rest of their boom lift ranges, including advantage powered equipment.
An LGMG spokesperson said, "We believe the future of the industry is electric powered models, not just articulating booms, but across the fleet. Therefore, we will continue to focus on improving our current electric models."
In addition to the A14JE electric articulating boom, launched in 2020, LGMG launched two advantage-powered machines, the AR14J/AR45J and AR16J/AR52J to meet the latest CE and ANSI92.20 standards.
The AR14J has a working height of 16m and horizontal outreach of 7.67m, while the AR16J has a working height of 17.7m and horizontal outreach of 9.39m. Zero tail swing is a significant feature of the product, as is the gradeability of 45%. Platform capacity of the four-wheel drive models is 230kg.

The company will introduce the AR19J advantage-powered articulating boom this year. The 21m working height model has an up and over height of 8.2m and the horizontal outreach of 12.1m. The newly designed structure of the boom form is more stable and reliable than previous versions and also comes with four-wheel drive and front oscillating axles, with zero tail swing.
LGMG sees the future as electric and will expand its electric product line with 18m to 24m articulating boom lifts, which can be equipped with lead acid or lithium batteries.
Range updating
XCMG's latest self propelled articulating boom lifts range from 16m to 26m working heights, include three advantage powered models and two full electric-drive lifts. The 20m working height electric XGA20AC uses a large capacity battery, with quick charging. The flexible 'Σ' design of the boom means that it has multidirectional capabilities within its working envelope. It has 360˚ rotation, while the basket has 160˚ rotation. The compact 5m turning radius is designed for accessible to narrow urban and indoor spaces.
All the manufacturer's electric articulated booms are AC four-wheel drive and have proportional control, stepless boom extension. The 26m XGA26 advantage-powered boom has a horizontal reach of 18.3m and a capacity of 230kg in the basket. The four-wheel drive machine has a gradeability of 45%.
Over the ensuing months, XCMG will launch its new articulated boom lift series, including 22m, 24m, 26m and 28m electric machines, as well as an upgrade of the current 16m and 20m electric booms to meet CE and ANSI standards.
Powered access rental specialist JMS has become the first operator in the UK to add Nagano advantage boom lifts to its hire fleet.
It has invested in the telescopic S15Auj and the articulating 20ATuj crawler boom lifts to support the increasing number of clients working on greenfield construction sites across the UK.
Europe expansion

Nagano first introduced the 20ATuj into Europe in 2019 through Belgium-based Vertimac, which is tasked with growing the brand in the continent.
The 20ATuj's biggest feature, shared by all Nagano machines, says Vertimac, is its high level of design and engineering, meaning it can last in a rental fleet for 15 to 20 years.
The crawler system is equipped with oscillating rollers in its centre, which gives a smooth ride over obstacles such as curbs or loading ramps and cancels the catapult effect that can be found with standard crawler systems.
Skyjack launches
Skyjack launched a range of upgrades to its advantage telescopic and articulating booms in early 2020. The changes pertained to the manufacturer's 40ft and 60ft machines and were all aimed at giving rental companies and users increased productivity.
In the North American market, along with being complaint to the new ANSI and CSA design standards, it also took the opportunity to make further enhancements to its models. Platform capacities were increased on the new 40ft and 60ft models, with new articulating booms now featuring a dual capacity rating,

The new models also feature Skyjack's Skycoded control systems that better aligns with Elevate, its telematics solution. The company will announce further changes at its Skyworks Live event 22-26 February that will better align features on its articulating boom line-up across all regions, and have been partly designed thanks to data collected from existing equipment in the workplace.
Corey Connolly, product manager, said, "Aligning the new ANSI standards with ISO standards and design standards used in other regions makes it much easier to look at design changes at a larger scale instead of localised. Having all of these design standards aligned makes it much easier to not only manufacture machines but also promote the machines."
Since this feature was written, Skyjack launched four new 40ft and 60ft articulating and telescopic boom lifts, during its Skyworld product launch week, to replace existing versions of the models.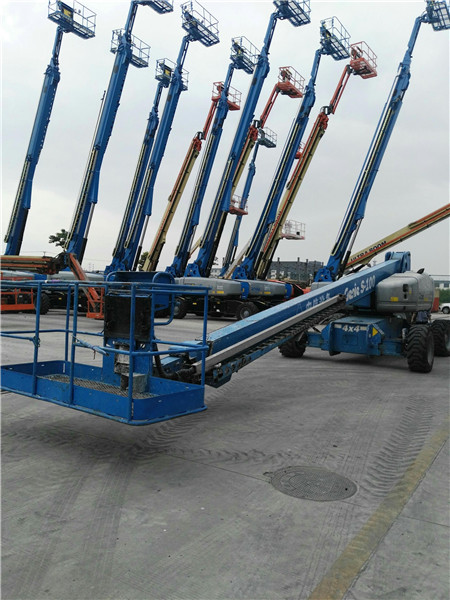 French connection
ATN has updated its advantage Zebra 16 boom lift. All hydraulics and electrics have been improved to increase lifting capabilities across the work envelope. Following the update, ATN it will launch the Zebra 16, which has an outrigger stabilisation system, onto the North America market this year.
In addition, ATN is using the mandatory introduction of Stage V engines to launch a revised version of its articulated advantage range. All its scissors and booms will now be powered by a Kubota D1305 engine. The 3-cylinder unit was chosen for its reliability and compliance to emission norms.
Leave a Reply
Your email address will not be published.Required fields are marked. *