By Eric chen |
18
July 2022 |
0
Comments
Boom lift Reaching further
Telescopic booms may not go higher than the mighty 180ft-185ft superbooms launched in recent years any time soon, but they are reaching further with greater capacity and growing their global presence. Euan Youdale reports.
The telescopic boom is historically strong in North America. According to Haulotte around 70% of global usage takes place in the continent. Emerging markets like the Middle East are eager buyers of this product type too where there is plenty of work in big industrial applications like the oil industry, requiring great working heights.
There are also development signs in Asia. "The market is growing moderately but steadily in Asia, and especially in China where we can see more local manufacturers offering a wide product range of telescopic booms," said a Haulotte spokesperson.
Nevertheless, across the world, including in North America, there is an increasing requirement for the more nimble and flexible working capabilities of the articulated boom, which is starting to encroach into working heights where before telescopic booms dominated. On the other hand, telescopic booms are adopting some of the traits of their articulated counterparts.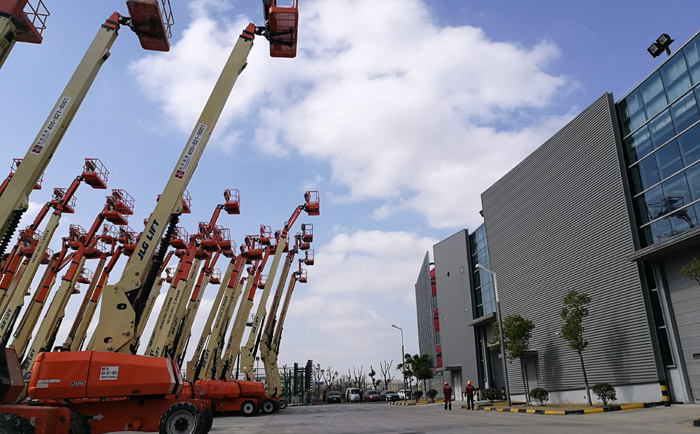 Modern adaption
The latest telescopic boom in the Genie product line-up is the SX-135XC model. It was first shown to the public in September 2016, during the company's 50th anniversary Homecoming event in Seattle, Washington. Accès Location d'Équipement, headquartered in Quebec, Canada, is the first to take delivery of the machine.
Adam Hailey, Genie director of product management, Terex AWP, explains, "To adapt to today's widespread need to enable people to work at height safely with increasingly heavy loads using a single machine, we engineered these new Genie booms to work in more applications that require higher capacities."
One of the Genie SX-135XC boom's key features is its capacity at reach. It achieves a horizontal outreach of 90ft without sacrificing its 660 pound capacity. It also allows three people, or 1000 pound capacity, to work at 78ft. With the machine's range of motion - 125 degrees of articulation - of the 18ft-30ft extension jib, offering up-over-and down capability, the machine is designed to offer advantage of both the telescopic and articulated boom classes.
Their design reflects another important development, specifically in North America. In the coming year, aerial OEMs will be redesigning machines to comply with the updated North America-based ANSI/CSA standards and to meet the upcoming recertification requirements. These requirements are fundamentally changing some features of AWPs; for example, platform load control will be required, which means that aerials will be required to continuously check the weight in the platform and disable the functioning if the load is above the platform load limit.
In addition, drive and certain boom functions will be required to be disabled when the machine is attempting to operate out of the unit's slope limit. There will also be provisions for indoor-only use aerials, where these particular units are not subject to wind loads during operation. And finally, terminology and training requirements will be modified.
Mr Hailey adds, "These regulatory changes will have a significant impact on the market, and it is up to the OEMs, like Genie, to focus not only on meeting the new standards but also ensuring the customer is educated on the changes. It is our goal that the impacts of the changes are seamless."
Blurred lines
So, it seems the lines are being blurred between articulated and telescopic booms. In the case of JLG and its launch at Bauma 2016 of the world's tallest and farthest reaching articulating boom, the 150ft working height JLG 1500AJP, is an example.
It features a working envelope of more than 2.6 million cubic ft (74,000 cubic meters) of reachable space, up-and-over height of 60 ft (18.3m) working outreach of 77ft (23.5m) and platform capacity of 270kg (600 pounds) unrestricted and 450 kg (1000 pounds) restricted. The machine also features a standard 2.4 m jib that raises and lowers 135 degrees to provide additional reach, up-and-over capability, and the ability to position the platform independent of the main boom. In addition, the jib pivots horizontally 125 degrees to provide extra maneuverability at elevated work sites. The boom's Quick Stick feature enables the lift to move from the ground to maximum platform height in two minutes 15 seconds and return to the ground at the same speed.
In most European countries, the 1500AJP is easy to transport, as it fits on a standard flatbed trailer. A 50/50 weight distribution on the axles also contributes to transportability, as the lift is easier to load, as well as its terrainability on the job site. The 1500AJP follows its recent telescopic models, the 400S and 460SJ booms launched at the 2015 Rental Show in New Orleans, along with another articulated model, the 450AJ.
Serving as a reminder that North America is 'home' to the telescopic boom. Skyjack launched the SJ82 T - available only in North America - during the Rental Show in Atlanta this year. It follows the widely available SJ86 T, launched in February 2015. The SJ82 T features a working height of 28.82m and horizontal outreach of 22.1m, and the SJ86 T has a working height of 30.04m and horizontal outreach of 23.42m.
The SJ82 T features dual capacity ratings of 227kg/454kg, while the SJ86 T features capacities of 227kg/341kg. A reach envelope diagram on both base and platform controls indicates to the operator which area of the envelope they are working in and what the maximum capacity is for that region.
Corey Connolly, product manager, Skyjack, explains, "Higher capacities are beneficial because they not only allow for more personnel in the basket but also more tools and materials. Higher capacities are especially advantageous on larger booms because they limit the amount of trips needed to go from height back to the ground to replenish material or tools – saving time and improving worker efficiency."
Skyjack is also matching its telescopic booms with articulating versions. Similar to launching a 60ft articulating boom after its 60ft telescopic booms, the company is set to launch an 80ft articulating boom. "We will likely continue to see demand for higher capacities, as well as more attachments and accessories. All of these things are gaining traction because of the value they provide to the end users and the work they are undertaking."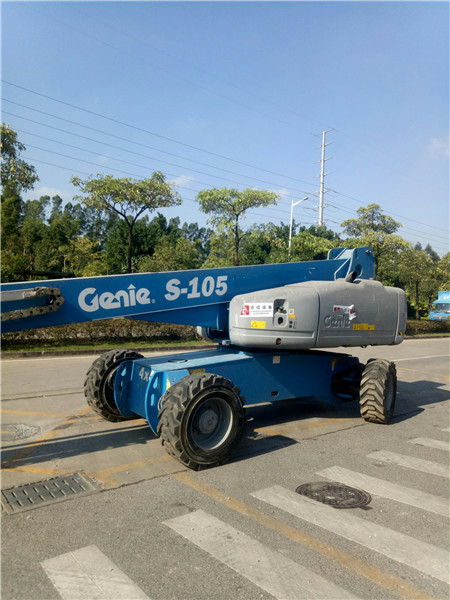 Global options
Snorkel has introduced a new family of four telescopic booms this year, including the midsize 660SJ that was globally launched at Bauma 2016 following on from the North American launch at The Rental Show in February.
In addition, another member of the family, the 460SJ telescopic boom lift was launched for the first time globally at Australian rental show Hire16, which took place in May.
The all-steel Snorkel 460SJ delivers a working height of 16m, an outreach of 12.2m and can lift up to 272kg. The 460SJ features a 2m jib boom that can articulate 135°, and the lift is also available without the jib boom as the 400S model with a working height of 12.2m.
Fitted with a fixed axle as standard, the 460SJ delivers rough terrain performance thanks to a traction manifold that delivers oil to all four wheels at all time, providing constant 4-wheel drive, with the ability to climb gradients of up to 50%. An oscillating axle is available as an option. It was on display alongside the larger Snorkel 660SJ at Hire16.
Great demand
Haulotte's latest telescopic boom offering is the HT21 and HT23 RTJ range. It was launched in 2013 and was this year upgraded. The HT23 RTJ provides a 22.5m working height and outreach of 18.3m.
Lifting speed is 56 seconds on a boom that is designed for its rigidity. In 2016 the platform was upgraded to a fully modular version and to make parts replacements quicker and easier. There is also an upper control box cover and tool tray in ultra-strong material, as well as the new Activ'Screen on-board monitor screen and diagnostic system.
Haulotte said there is great current demand in this telescopic working height segment. The company added that although the push into ever greater working heights is inevitable, there is a limit at which they may not be practical.
"We observed in the last few years a market differentiation strategy by offering higher platform heights between 150ft and 190ft, although it remains a niche market. Taking into account that these platform heights are competing with truck mounted platforms, one can wonder if it would be relevant to target the development of the offering beyond 190 feet."
JLG on the other hand is quite certain that 'unprecedented' heights are around the corner. After all, it launched the highest working height boom lift so far, the 185ft 1850SJ at ConExpo in 2014. It followed in the footsteps of the 180ft working height Genie SX-180, presented at Bauma 2013. Since then the industry has been waiting to see if they, or any other manufacturer, would trump those dizzy heights. As yet, we are still waiting.
Corey Raymo, global category director – booms, JLG Industries, suggests this is set to change. "As new applications in an increasing variety of markets emerge, the demand for higher lift heights is forcing the industry to think about lift designs that will one day reach 190 feet (58m). He adds, "Telescopic booms are being designed to provide access in applications, including steel erection; energy-related construction such as petrochemical, power generation, and wind plants; stadium, convention centres, and theatre construction; and entertainment and studio-related applications. As a result, the market will require that they reach unprecedented heights in a safe, efficient, and environmentally responsible way."
For Skyjack, that inevitability is still some way off, and Mr Connolly throws in a level of caution. "As buildings and structures continue to go higher the demand will be there for machines to continue to go higher but ultimately a number of factors will limit how high they can go. Cost, weight, transportation, function times, and stability are all things that will likely impact what makes sense and what does not."
On the other hand, and as we have already seen, other areas of performance development are a certainty. Mr Connolly adds, "We will likely continue to see demand for higher capacities, as well as more attachments and accessories. All of these things are gaining traction because of the value they provide to the end users and the work they are undertaking. Saving time ultimately saves them money."
At Genie, the view is that productivity will be one of the drivers of future machines. Jobsite speed and efficiency are critical to keeping construction and industrial costs controlled, and the use of large machinery is one of the significant construction costs.
In addition, Mr Hailey adds, "As our customers continue to become more technological savvy, we are seeing growing trend in the use of technology for fleet management. In my opinion, we are in the early stages of the adoption of telematics, mobile applications and data-driven fleet management. I expect rental companies around the world to increase their use of these capabilities in the coming years to drive higher financial returns."
What about alternative power sources for telescopic booms? mixture is increasingly being used in conjunction with oncoming projects. Some might say there is little chance the mixture power sources will find their way in to the big crude oil engine booms of today.
Mr Connolly says, "Demand for electric and mixture machines will likely continue to grow. Demand will not only be driven by advances in technology but also by changes on the engine side. Emission requirements will continue to evolve and as they do there will be drawbacks associated with not only the cost of the engine itself but also the continual maintenance (and the cost for not doing it)."
As a result, JLG set out to design electric only-powered aerial work platforms that support environmental-focused initiatives. The recently upgraded E300, E400, and E450 articulating boom lifts and E600 telescopic boom lift are designed to meet users' needs, while reducing their impact on the environment. All four models were upgraded from DC drive and system technology to AC technology, providing a more efficient system with higher overall performance and lower maintenance needs
Safe guarding
Secondary guarding, once very much a UK requirement is proving to be a standard option. Snorkel's 460SJ features its new tri-entry removable platform, that is equipped with Snorkel Guard secondary guarding system as standard.
Earlier this year, JLG announced it is making its SkyGuard enhanced control panel protection system standard across the JLG portfolio of boom lifts. When activated, the SkyGuard system stops all functions in use at the time, then temporarily backpedal most functions that were in use when the system was activated. This backpedal functionality is the only feature of its kind in the market.
The company began equipping its boom lifts with the SkyGuard system as standard equipment on the portfolio of JLG Boom Lifts ordered in Europe, Australia, and New Zealand in July. The system will become standard equipment in the rest of the world in January 2017.
Genie has provided two such solutions with the understanding that each job is unique, and one solution may be more suitable than the other. The Genie Operator Protective Structure (OPS) is a mechanical guarding device that provides a protective bubble around the operator at the controls. In the event of contact with an overhead object, the OPS directs the kinetic energy of the contact to the platform itself, not the operator.
New to booms
MEC Aerial Work Platforms, based in the US, is in its second year of booms production and launched its 60J Boom series in 2015 with both crude oil engine and electric models available, as well as a mixture option.
The Electric RT boom is designed for no compromise in performance for job sites that require less noise and air pollution. While the mixture option evolved from the growing need for this type of equipment.
"The crude oil engine model needed to be differentiated in the market so we addressed the need for larger working space and easier workability and greater safety with no foot pedal, with the largest platform in its class," said Jim Tolle, MEC's international sales manager.
Although Mr Tolle points out, "[mixture] seems to be a slow mover in our industry until regulations prompt a more drastic shift." He also does not see a move to 190ft working heights and above for telescopic booms any time soon. "The market opportunity in that range is very specialised. Until the market opportunity increases, the return on research and design investment will be too low to make it a priority."
In addition, the majority of telescopic booms sales will remain in the US. Mr Tolle says, "Telescopic booms will have their share of any developing market for aerial work platforms like China, but the ratio of telescopic to articulated booms seems to have favoured articulated booms outside the US, especially in congested cities. Work sites with the highest adoption of telescopic booms currently appear to be large scale construction projects like power grid facilities, petrochemical facilities, ports and other large facilities."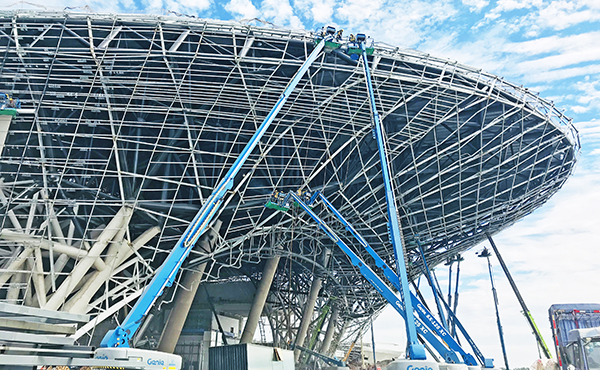 China in Focus
It's not just manufacturers with a major interest in the North American market that are producing telescopic booms. Italy-based Airo introduced its first telescopic boom at Bauma this year.
The T34 JRTD has 34m working height and a 24m outreach with 450kg capacity in the basket. It also offers extending axles and four wheel steer, with jib. Joining the T34 JRTD is sister product T32 RTD, which offers all the same functions except the jib.
The Italian company says the pair will be aimed at the Chinese market, notably shipyards, through Airo Beijing, the manufacturer's sister company in China. According to Airo, shipyards in the country are providing sales for booms and will help make up for the slow
On the subject of China, Dingli has confirmed it will launch new booms from its partnership with Italian telehandler specialist Magni at Bauma China, taking place in November this year. Among the 16 new products on display will be the eight new boom lifts designed and built at the new Dingli Europe R&D Centre in Italy. It follows Dingli's acquisition of 20% of Magni, with the new facility based at its factory.
Of the eight, four will be telescopic booms with 16m, 20m, 24m and 28m working heights, while the other four are articulating with the same working height range.
All models offer four-wheel drive and steering and are built with the view of selling them widely in Europe with its Revolutionary Concept, designed to concentrate on weight, performance, efficiency and service.
Sinoboom launched the GTBZ16/18J crude oil engine powered telescopic boom lift, launched in Jan 2016, with the GTZZ16/18EJ electric articulated boom lift, launched in the same year.
The GTBZ16/18J offers overload and overrange alarm, tilt alarm, and other fault indication and alarms, like water temperature and oil pressure. In China, "Diverse market demand is forming, especially under 20m. Sinoboom's new models are designed to meet the market demand," said a company spokesperson.
Sinoboom has its sights on the international market and is hoping to partner and cooperate with 'well-known' organisations in the next five to 10 years to improve manufacturing quality and service options. The company says technology through computer generated designs and 'virtual prototypes' are improving product development, while the Internet of Things will play a major contribution to the industry. "Fatigue stress analysis will be important in AWP research and design."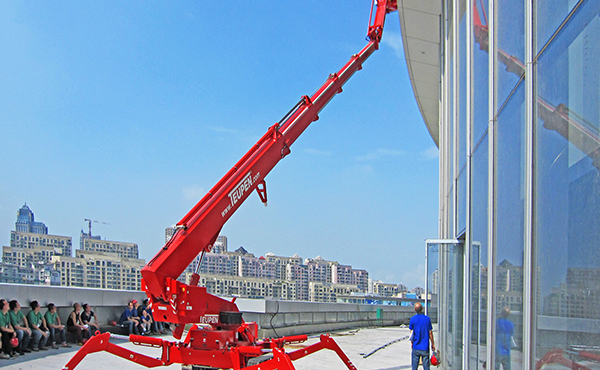 Sinoboom is also uncertain that booms of over 190ft or higher will be seen in China."It doesn't have a good rate of return on investment, though some large rentals may still show interest only to establish themselves as the leading player in the AWP business." Furthermore, high-rise buildings over 60m in China are always equipped with window cleaning machines or suspended platforms.
Concerning mixture in China, Sinoboom adds, "New emission standards will not cause a significant impact because electric power has been a mature technology for AWP for decades and also engine manufacturers have launched upgraded series engines complying with the new emission standard. "High manufacturing costs makes mixture power supplementary for the market and deprives mixture power of competitive strength."
Leave a Reply
Your email address will not be published.Required fields are marked. *