By Eric chen |
18
July 2022 |
0
Comments
Telescopic boom lifts - the trends
Higher capacities are a key feature of new telescopic boom lifts, while 100% electric models are becoming a reality, particularly among the Chinese manufacturers.
Dual capacity models have taken off in very recent years, partly due to the requirements of the new US ANSI standards, but also thanks to a greater requirement for capacity generally.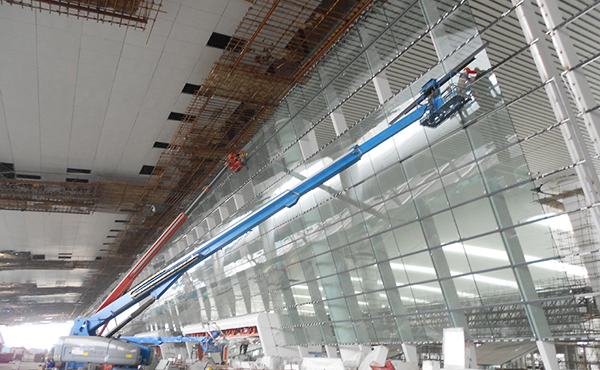 Last year, JLG launched the high capacity 860SJ and 660SJ HC3 telescopic boom lifts. And in August this year, German rental company Rehm Arbeitsbühnen took delivery of one of the first 860SJ HC3 units to be produced.
Rehm said it chose the 28.2m working height model specifically for its higher payload capacity and its standout feature of automatically adjusting between three different platform loads, with restricted platform capacities of 453.5kg and 340.1kg and unrestricted platform capacity of 226.8kg.
Dual capacity booms
This allows more flexibility and significant time savings, says the manufacturer, with its high load capacity in the entire working area, up to three people including tools can be transported in one operation.
"We have had JLG machines in our rental programme since 1999. The decisive factor for choosing the new HC3 type was the increased payload of up to 450kg. This is a real asset for the customers and for us," says Rehm.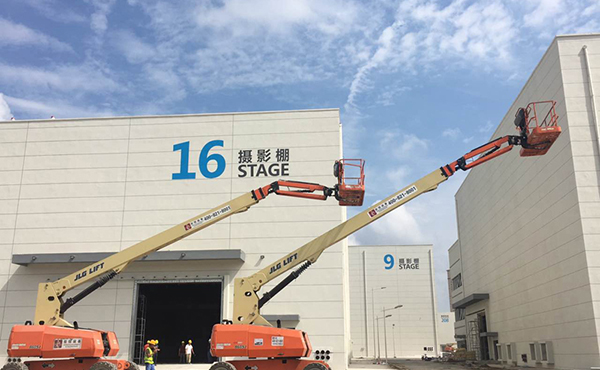 Over the past year, Skyjack has made a number of improvements to its SJ45 T and SJ66 T telescopic boom lifts, the biggest being to its control system, powertrain and platform capacities.
The enhancements Skyjack made to its control system advantage its Elevate telematics option, providing access to additional data points to better understand machine usage.
Over the last year there has also been a slight change to some of Skyjack's model names, with the addition of a '+' symbol. The + represents the addition of more platform capacity to Skyjack's booms. The SJ45 T+ and SJ66 T+ now both feature dual platform capacities up to 300kg or 454kg. Increasing the platform capacities from the previous single 227kg, allows for more personnel, tools, and material in the platform.
Updates to Skyjack's power train were specific to the SJ45 T+. Corey Connolly, product manager at Skyjack, says, "After analysing machine usage and consulting with a number of its customers, Skyjack identified an opportunity to utilise a 18.5kw engine. In conjunction with its ECOstart anti-idling option, this change will reduce fuel usage up to 40%.
"It also better aligns with true jobsite usage; it lowers drive speed with minimal changes to machine terrainability, while avoiding all of the costs associated with complex emission controlling components required for Stage V booms more than 18.5kw. There is no crude oil engine particulate filter, no selective catalytic reduction, no regeneration cycle."
As Connolly adds, machines that can lift higher and lift more has been one of the main trends over the past few years. "Power source changes have primarily been focused on articulating booms, but there is definitely growing demand for more sustainable products and will likely affect telescopic booms in the future as well."
Lifting capacities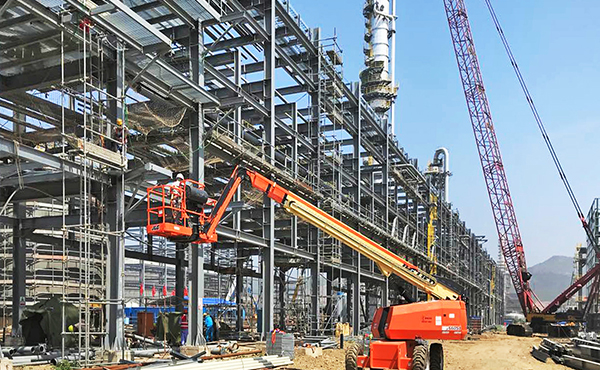 Matthew Elvin, CEO of Snorkel, has a similar view of the market. "Demand is continuing for greater lifting capacities across telescopic boom lifts, as well as other aerial lift product categories, enabling users to carry more people, materials and tools to the working area for increased productivity. We anticipate that this demand will increase further in North America, as users become more frequently exposed to new overload systems implemented as part of the new ANSI suite of standards."
This year, Snorkel is upgrading its mid-sized boom family, the 400S, 460SJ, 600S, 660SJ and 600S and 660SJ All-Terrain models. Starting at 16.2m working height, they offer a newly designed, globally-compliant jib boom and meet increasing demand for enhanced lifting capacity.
Measuring 1.67m, the new jib boom reduces the stowed length of the unit for ease of transportation, while enabling higher lifting capacities. All six models will also deliver a maximum platform capacity of 454kg, with a restricted working envelope, and 272kg unrestricted, following demands for higher lifting capacities to carry additional tools and materials.
During 2020 Snorkel launched tracked All-Terrain versions of its 600S and 660SJ models. They come with four independent rubber tracks for use on challenging terrain or where low ground pressure is required. Both models can climb gradients up to 45%.
Elvin adds, "From a longer-term perspective, we see greater adoption of alternative power sources to crude oil engine, in the telescopic boom sector, as it becomes technically and financially possible."
Currently, Genie says it is focusing on mixture technology and mid-sized booms. The company is not ready to say more at this stage but look out for more details on new products later this year. Sean Larin, Genie product manager, says, "mixture certainly is another trend. Globally, jobsite regulations have become increasingly more stringent, requiring quiet equipment with lower or no emissions. At the same time, there has an increased need to work in more places, with large jobsites requiring machines that can work both outdoors and indoors.
"This helps explain the rising popularity of mixture technology. Genie is addressing this need with our FE mixture boom lifts. FE offers all of the performance of a rough terrain machine, along with the efficiency advantage of a true mixture machine, and the ability to run in electric-only mode for quiet, emission-free operation for use indoors or on jobsites that require quiet, emissions-free operation."
Genie deisel
Genie's latest telescopic boom is the deisel-powered Genie S-80 J, which was introduced in 2020. The S-80 J, like the S-60 J, also introduced in 2020, is as Larin describes it, a straightforward, reliable, get-the-job-done boom that is ideally suited to many tasks, from general construction to maintenance, inspection and painting.
The 26.4m working height Genie S-80 J model has a horizontal reach of 16.8m and an unrestricted platform capacity of 300kg to accommodate two occupants plus tools, plus a 1.8 m jib, leading length and capacity for low weight booms in this height category, says Larkin. With a working height of 86 ft (26.4m) the boom provides operators with access where it's needed at the top of the envelope.
The optimised design of the S-80 J and S-60 J also reduces the number of wearable and serviceable parts and allows these lifts to weigh less than comparable booms in their class.
This low weight is another key feature of the J series, helping keep ground pressure low, which allows operators to work in more sensitive ground conditions and on more recently cured slabs. It means the Genie S-80 J is lightweight enough to be equipped with the Genie 4-point TraX patented track system – making it the first and only boom model in its height class to offer a tracked option.
Electric-powered
Concentrating on both capacity and green power sources, Sinoboom launched an electric version of its heavy-capacity range, the TB26EJ Plus at Changsha International Construction Equipment Exhibition (CICEE), in Changsha in May. The unit has a maximum platform capacity of 454kg (1,000 pounds).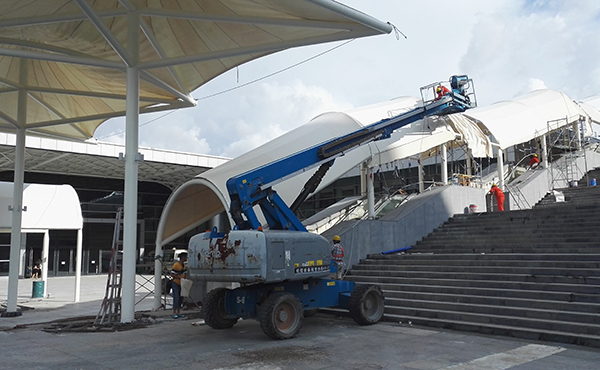 Sinoboom's high-capacity series features a maximum platform capacity of 340kg that increases work efficiency, plus a full-time oscillating axle function, and off-road foam tyres suited for work in demanding terrain improved stability allows the operator to feel increasingly comfortable over rough-terrain. The heavy-capacity series is available in both crude oil engine and electric versions, to suit areas with different emissions requirements.
The company has also introduced a new telescopic boom function, the HV, which provides one-click horizontal and vertical reciprocating movement, with a single joystick, which dramatically improves operating efficiency in sectors such as shipyards. The HV function is also an option on Sinoboom's conventional telescopic boom lift models.
Full electrification of Sinoboom's heavy-duty, 30m-plus telescopic range will follow in the future, adds the company, along with other products for specialist applications, such as shipyards and the petrochemical industry.
With the popularity of lithium batteries and their superiority compared to lead-acid batteries, telescopic boom lifts equipped with lithium batteries are becoming a trend. We expect to see increasing lithium battery power and mixture power in telescopic booms to meet the environmental needs of specific regions," says a Sinoboom spokesperson.
This year, Zoomlion also launched an electric telescopic boom lift, the 26m working height ZT26JE, with lithium-ion batteries, at CICEE 2021. The company is planning more electric telescopic boom lifts in the future, which will also have li-ion batteries as a power option.
"We believe that the demand for electric-powered models will grow gradually in terms of telescopic boom lifts. In fact, some of our customers asked us about the possibility of replacing crude oil engine-powered engine with electric-powered one regarding on telescopic boom lifts."
The Zoomlion spokesperson added, "From a macro view, we think this engine switch process will accelerate owing to the execution of Euro Stage V emission standards and the US's return to the Paris Climate Agreement."
LGMG introduction
Fellow Chinese manufacturer LGMG has also been expanding its high-capacity range with a large working platform telescopic boom lift, this time a crude oil engine-powered unit.

The T22J has a working height of 23.8m, a horizontal outreach of 17.5m, and a 300kg unrestricted and 450kg restricted dual-capacity. It can accommodate three operators with the maximum load.
Equipped with a large platform of 2.44m in length and 0.9m width, the platform offers a three-door design, making it more convenient for material handling. The T22J is also equipped with a Euro Stage V and T4F emission-compliant engine. Its engine speed is automatically controlled to ensure reduced emissions.
Four-wheel drive, rough terrain tyres, oscillating axels and 45% gradeability also come as standard. Furthermore, the components of the T22J have a high level of commonality with other LGMG boom lifts.
Using a CAN bus system, the electronic controls are more reliable. The T22J can also be equipped with a generator, glass panel holder, platform power supply, non-marking solid tyres, secondary guarding and telematics.
Leave a Reply
Your email address will not be published.Required fields are marked. *