By Eric chen |
22
July 2022 |
0
Comments
Should scissor lift operators use PFPE?
In 2007, ALH ran a story about fall protection that asked, "Should operators use a harness and lanyard when working in a scissor lift?" The article explored the division between access equipment manufacturers, rental companies and training specialists on the issue. Some firmly believed fall protection should be worn in scissors while others explained the many reasons they believed the opposite.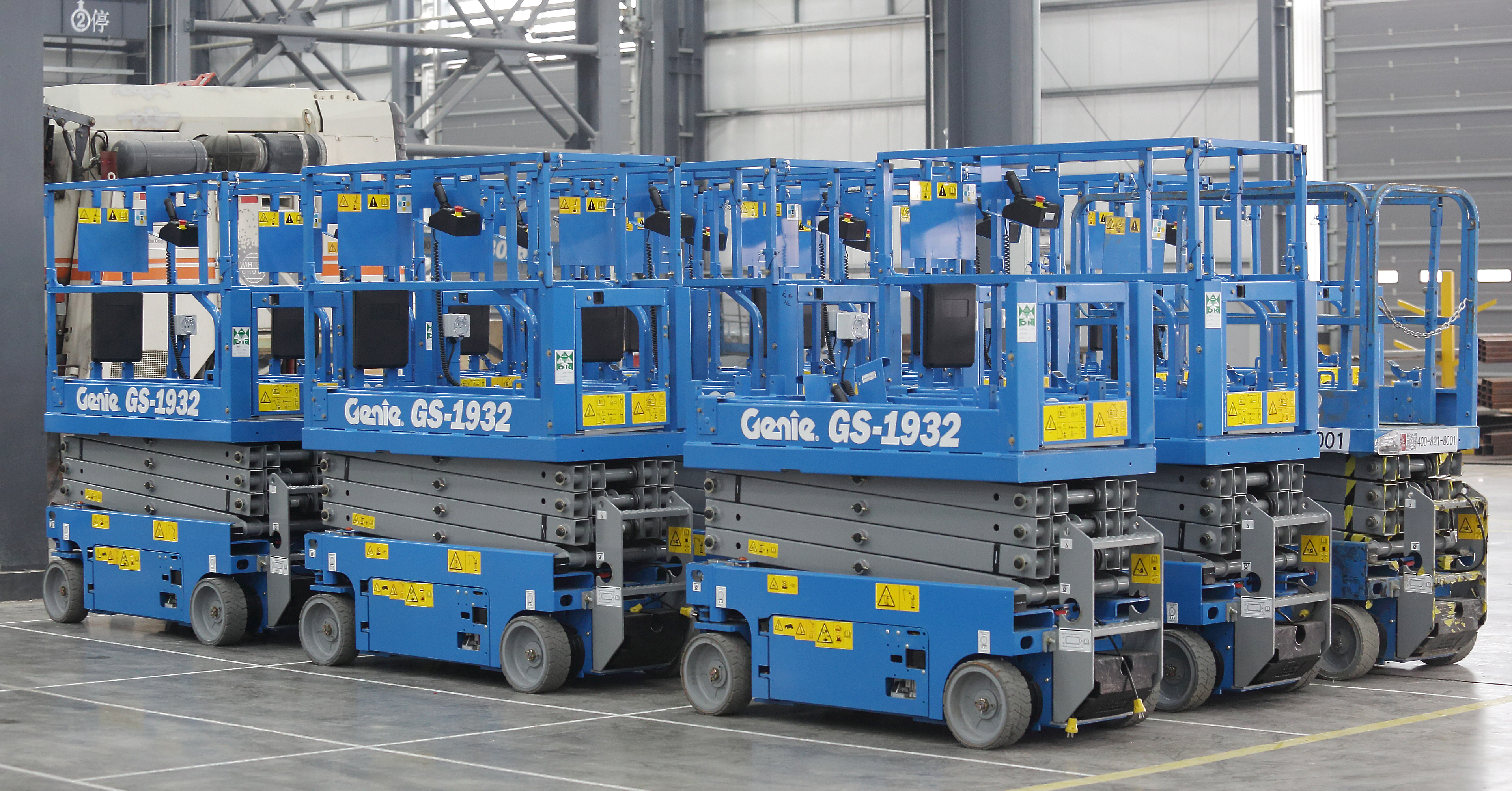 So, what's today's take on the issue? We asked Genie's Director of Training Scott Owyen for an update on the matter. Here's what he had to say.
(Photo: Genie)
As a safety trainer who has performed hundreds of mobile elevating work platform (MEWP) operator and train the trainer courses over many years, it has become clear that most MEWP dealers, owners, users and operators are aware that personal fall protection equipment (PFPE) is required when operating self-propelled and trailer-mounted booms. That is due to the potential, in certain situations, for operator ejection or catapult associated with this type of MEWP.
However, the issue of whether personal fall protection equipment should be required on scissor lifts has been a subject of discussion for more than a decade, and little has changed during that time. Since there isn't a standard approach or consistent answer, whether PFPE is required on a scissor lift depends mostly on factors like employer and/or local government regulations. As such, it can be a source of confusion.
I would like to break down, from my experience, the many aspects of this issue.
What the manuals say
Over the years, there have been very few, if any, changes in the standards regarding the use of fall protection equipment on MEWPs.
Per ANSI A92.22-2021 and CSA B354.7-17 standards, the guardrail system of the MEWP is the primary fall protection for occupants. When required to use personal fall protection, either fall restraint or fall arrest, operators and occupants shall comply with the instructions provided by the manufacturer regarding anchorage(s).
Standards for Type 1, Group A (1A) manually propelled elevating work platforms, and Type 3, Group A (3A) self-propelled elevating work platforms — which includes scissor lifts and single personnel lifts — do not require the use of personal fall protective equipment (PFPE) in addition to guardrails.
However, if a user, employer or local government regulations requires an operator to use PFPE in addition to guardrails on MEWPs, Genie provides lanyard attachment points for this purpose. And there are many jobsites throughout North America as well as some provinces in Canada, such as Saskatchewan, Ontario and Nova Scotia, that have requirements or regulations requiring all occupants in a scissor lift to wear PFPE.
In addition to the fact that different employers and different locations have different requirements, manufacturers also may provide different instructions regarding PFPE on scissor lifts.
(Photo: Genie)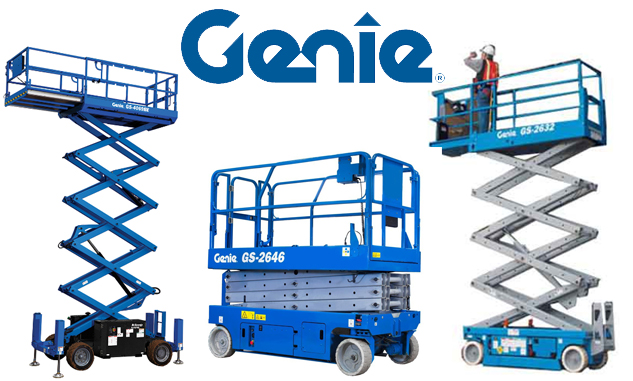 For instance, the Genie operator's manual for the GS-1930 scissor lift1 states the following:
"Personal fall protection equipment (PFPE) is not required when operating this machine. If PFPE is required by job site or employer rules, the following shall apply:
"All PFPE must comply with applicable governmental regulations and must be inspected and used in accordance with the manufacturer's instructions."
The Skyjack operator's manual for the SJIII 32192 states the exact same verbiage.
The MEC operator's manual for the 1930SE3 states it in a slightly different way:
"Operators must comply with employer, jobsite and governmental rules regarding the use of personal protective equipment. If required by your employer or job site, use personal fall protection equipment (PFPE) when operating this machine."
However, the JLG operator's manual for the R1932i4 scissor lift states:
"JLG Industries, Inc. recommends that all persons in the platform wear a full body harness with a lanyard attached to an authorized lanyard anchorage point while operating this machine. For further information regarding fall protection requirements on JLG products, contact JLG Industries, Inc."
As you can see, there are a lot of factors that could be responsible for confusion. The result is that many employers, general contractors and safety compliance officers often must wade through the muck and make their own determination regarding the use of PFPE on scissor lifts.
Why there's not a clear answer
Since there isn't clear guidance or agreement on the topic, it's worth taking a look at why that's the case. The most common reason that I hear for requiring PFPE on scissor lifts is that employers want safety practices to be consistent across the board, often saying: "We require PFPE on everything on the site."
I understand this thought process, but there is also another school of thought that requiring PFPE to avoid a fall hazard could introduce other, possibility more serious hazards. For example, there have been situations where an operator inadvertently got their lanyard wrapped around the platform control joystick and activated the elevate function, crushing the operator. In another instance, an operator did the same thing but almost drove off a loading dock.
In addition, when more than one operator is working from the platform and they are wearing six-foot shock-absorbing lanyards, it can create a tripping hazard that could lead to severe consequences.
And finally, PFPE could give an operator a false sense of security and lead them to engage in another unsafe behavior, which is one I personally have witnessed; That is the act of climbing on the guardrails. If the operator were to fall from a height that was less than their safe total fall distance5, they would still strike the ground and could be seriously injured or even killed.
I have spoken with general contractors who require that their operators use fall restraint lanyards in scissor lifts to keep them from climbing on the guardrails. In the same breath, they complain about the reduced productivity due to the lack of operator mobility in the platform.
One of the more disturbing sights that I have seen is operators attaching their lanyard to an overhead structure instead of the MEWP anchor point. Their reason? If the machine falls over, they won't go down with it. I would think that a better approach would be to ensure that the machine can't fall over.
Mitigating risky behavior
With all of that being said, there is obviously still a lot of work to do regarding this subject. The new ANSI and CSA standards do provide some guidance that could minimize or mitigate some of these issues.
(Photo: Genie)
Most importantly, employers must ensure that their operators have been properly trained by a qualified instructor using the most up-to-date content and methods. Operator training should take between 3-6 hours if done properly, and no person should be allowed to operate a MEWP unless they have proof of proper training and that they are familiar with the specific model of MEWP they are operating.
The requirement for anyone supervising a MEWP operator be trained on specific content also will elevate the supervisor's awareness level when it comes to observing their operator's performance and identifying and stopping unsafe behavior. Supervisors must take this task seriously, as the lives of their operators are literally in their hands.
Additionally, the requirement to perform a detailed workplace risk assessment also is critical to ensuring that operators can safely and confidently operate the scissor lift on the job without feeling like they must create a back-up plan in case things go wrong.
Final word
My opinion is that if personal fall protection is required on a scissor lift, the appropriate PFPE would be a full body harness and a six-foot self-retracting lifeline/lanyard that is approved for use on a MEWP. The SRL would minimize the risk of getting caught on the joystick as well as minimize any potential tripping hazards. It allows the operator to have full mobility in the platform which would increase productivity. It would not, however, eliminate the ability of the operator to climb on the platform guardrails. That is why having trained, qualified, and engaged supervision is absolutely critical to safety.
Leave a Reply
Your email address will not be published.Required fields are marked. *