By Eric chen |
22
July 2022 |
0
Comments
For scissor lifts, the ability to work inside and out is a growing trend
While rough terrain and slab scissors provide their own distinct advantage, there is a growing need for flexible machines that can be used throughout a project, both inside and outside.
Chad Hislop, Terex Aerial Work Platforms (AWP) product manager, explains: "If a scissor can handle rough terrain, when the building is first getting erected and then, after the walls are up and the building is steeled, can go inside because it doesn't have any emissions and stay there until the job is done, that holds great value to rental companies."
Genie's most recent launch is the DC69 rough terrain series of scissors in 2012, an evolution of the 69 series scissors launched in 2011.
"This is almost a new category of scissors because it delivers an all terrain electric scissor, with powerful direct drive AC motors and non-marking rough terian tyres."
The machine also comes with a 5 foot extension deck, compared to a 3 foot extension deck found on previous incarnations. "I think the market is going that way, people want a machine that can do everything well," says Mr Hislop. "They want to lift lots of material; they want to have big decks, especially big extensions decks so they can get up and over things; they want more height - in a lot of spannerhouses, particularly in Europe, you need that kind of deck height to get up to the ceiling."
At JLG, Jeff Ford, AWP global product director, says use of direct electric drive has dramatically increased duty cycle performances, and is another example of how scissors are offering more to the customer. The manufacturer's most recent launch is the RS series of scissors in Asia at BICES 2011 and in the Americas at the Rental Show in 2012. The CE version will be launched at bauma in April.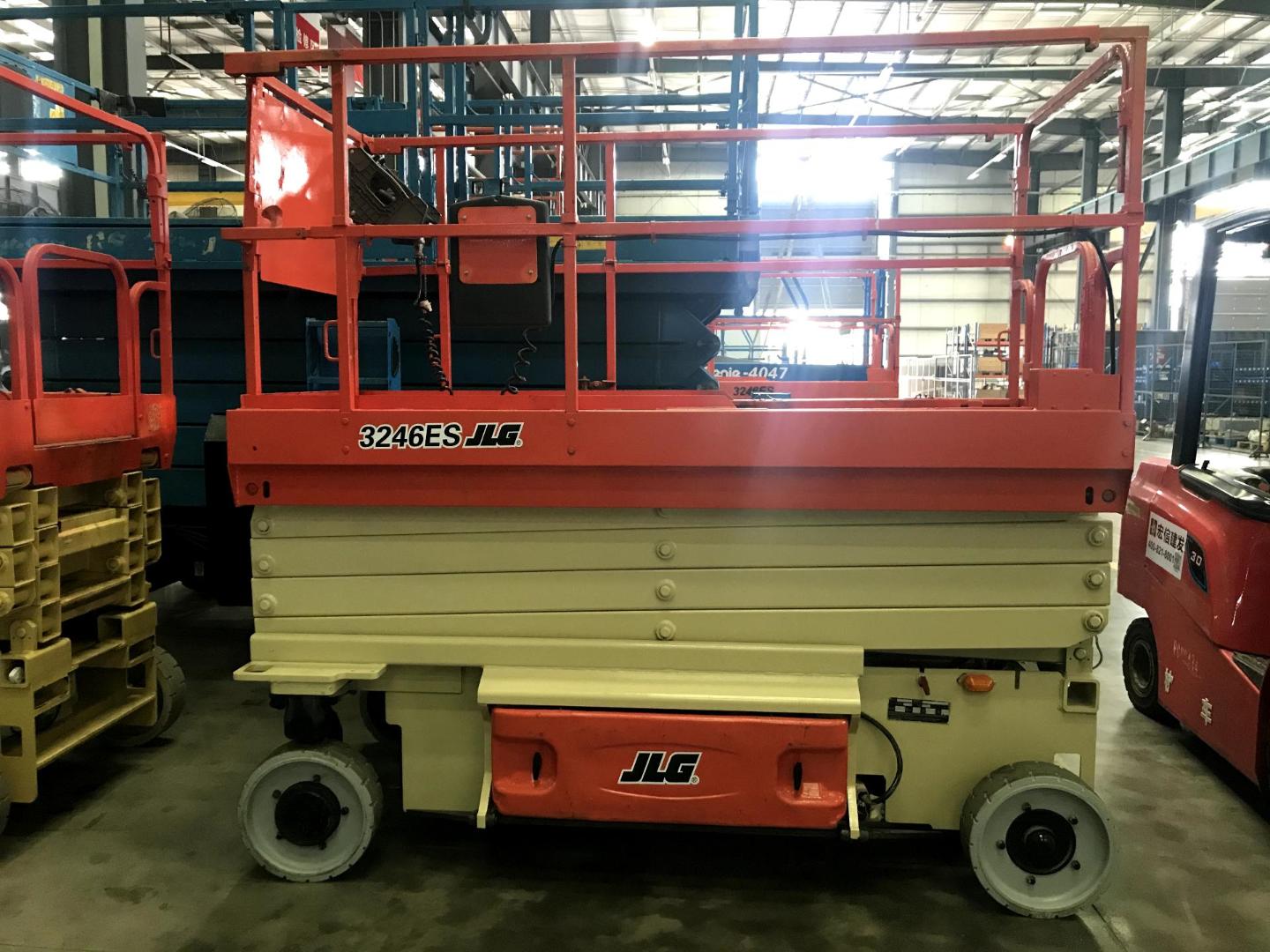 "This addition of electric drive helps operators by reducing lost time on the job due to dead batteries and is seen as a great advancement in improving productivity. In addition, the use of direct electric drive allows for a simplified hydraulic system which reduces the potential leak points by eliminating the complexity of countless hoses."
Meeting regulations
Enrique Garcia Delgado, Snorkel regional sales manager for Europe agrees, "The power source is increasingly critical for compact rough terrain scissors. The advantages of the bi-energy versions over crude oil engine-powered scissors are that the contractor only needs to hire one lift for working indoors and outdoors. For example, the operator can work on a building's exterior on the crude oil engine engine, then switch to battery power to take the same machine indoors for the fitting-out process. Bi-energy machines can also help contractors to meet increasing regulations governing engine noise and exhaust emissions."
Mr Delgado adds, however, "Scissor lifts are well-developed products. For engineers it is less about innovation and more about incremental improvements in safety, productivity, performance and total ownership, or whole life cost of the machine."
Expanding on that theme, Mr Hislop explains that the biggest developments are coming from enhancing existing products so the customer can get that extra height or capacity without investing in a much bigger machine further up the range.
"We are always looking for different ways to add value to our customers, and we have a couple of projects in the works right now, which I can't talk about at the moment. But I think the DC69 gives a good indication; customers want a more rounded machine that is not specifically RT or specifically slab."
Another example of how the company is adapting existing models comes with its GS2646AV a version of its 26 foot GS 2646 slab electric scissor lift, and designed for aircraft maintenance. "We took a slab scissor design and did everything we could do on it to add value. For example, we took a three foot extension deck and extended it to 5 feet; and we gave it a hydraulic cylinder so the deck is actually powered. We also put aircraft protection pads all around the platform to protect the plane, and extra controls, so if the extension deck is out or the gate is open, for someone who has exited the platform, you cannot lower the machine onto the wing."
Heightened trends
Continuing on the theme of adding value, Paul Kreutzeiser, Skyjack's senior product manager, explains there has long been a trend to increase the platform height on a narrower chassis.
"Trends in construction have seen an increase in the use of raised flooring or even embed datacom cables directly into the flooring, the result in both cases is a reduced local floor load rating and wheel loads." He adds, "One of the more notable trends in scissor lifts today is the increased demand for OEM supplied productivity attachments such as pipe racks or tool trays."
As mentioned, safety is always a key concern in any new design, and pothole protection is a major issue when it comes to scissors. Mr Ford explains this is no less the case when it comes to the RS series, with rugged, yet simple design, it includes direct electric drive, which, he says, delivers industry-leading duty cycles and minimised leak points, with just four hydraulic hoses. "Passive pothole protection has no moving parts, reducing service calls, and provides ample ground clearance to traverse over varied terrain and scraps lying around the job site."
A good return on investment is arguably the greatest challenge for manufacturers, and this is often achieved through simplicity. Snorkel, for example, focuses on producing electric slab scissors, such as the S series, that deliver just that. Mr Delgado explains, "When we re-engineered our slab scissors, we improved the chassis strength and the accessibility to service modules, plus we integrated a control system that provides smoother operation and very easy troubleshooting and diagnostics. As these machines are already electric they have low operating and service and repair costs. The industry focus is largely in incremental improvements in performance, such as battery life between charges."
Control systems
At Genie, the Smart Link Control System, introduced a couple of years ago, has been designed to make the machine simpler, and to save time, says Mr Hislop.
It offers a full read out display at the base of the machine and tells the service technician what the issue is and where to fix it. For example, "Often, what we find is that the problem is a pothole guard," says Mr Hislop, "The user might have driven over a piece of wood and the pothole guard is not coming down properly – so, the machine will beep at him and provide a pothole guard error code. But if you don't have a control system you may not know what the problem is; you pick up the phone, you call the rental company. But with Smart Link the user can go down and remove whatever is blocking the pothole guard, and go back to work."
On the issue of safety and service Mr Delgado sums up some of the key factor, but concedes there are always grey areas: "Scissor lifts already have proven safety devices, such as pothole protection, tilt alarms and level sensors with drive/lift interlock to prevent operation on unsuitable terrain. Some rental companies ask for lanyard anchor points in scissor lifts. In line with IPAF guidance we do not advise the use of harnesses in scissor lifts, but some end users do insist, so we offer them as an option.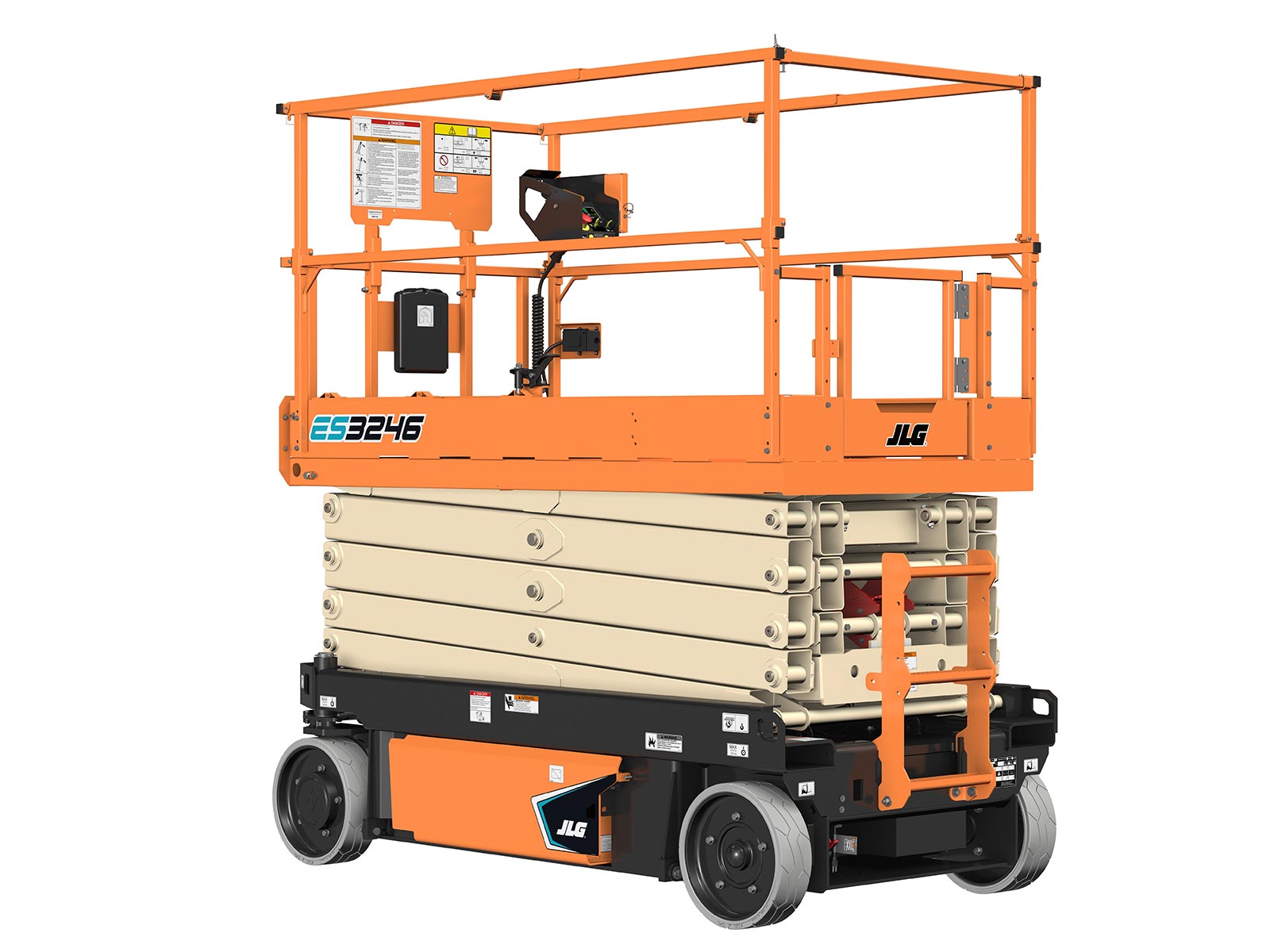 Launches
MEC Aerial Work Platforms introduced a new 40-foot rough terrain scissor lift at the Rental Show, in Las Vegas, US in February this year. The 4069RT is available in electric and crude oil engine power. The electric 4069 was introduced first at The Rental Show and it will be followed by a crude oil engine variant in the second quarter of 2013.
The 4069 features four-wheel drive and fully proportional drive and lift controls, and comes standard with the MEC Quad-Trax traction control system. The 4069 can achieve 40 % gradeability. The total lift capacity of the machine is 900 pounds at full height.
Also at the Rental Show, Custom Equipment debuted three new prototype machines: the HB-P527, HB-830 and HB-1230.
The smallest model, the HB-P527, is a 5 foot platform height push-around lift. It weighs 600 pounds and can lift 500 pounds. It is 27 inches wide by 41 inches long and 64 inches tall. The unit is still in its testing stage but will be production ready in the next month.
The HB-830 and HB-1230 lifts feature 8-foot and 12-foot platform heights respectfully, with a zero turn drive systems.
The controls for the zero turn system now incorporate a full-size, multi-axis joystick with a built-in enable switch for the most precise movement of the lift, the company said.
The HB-1230 is comparable to 12-foot mast machines but provides a larger working platform with a more solid platform feel provided by the rigid scissors. Its estimated weight is 1,500 pounds and it, like its siblings, will feature a lift capacity of 500 pounds, said the company.
Leave a Reply
Your email address will not be published.Required fields are marked. *